The Board of Directors of the Centerville Lions Club has voted to increase dues to reduce the percentage of administration costs of the club. Budget chair Allan Spencer told the board administratiive costs were over 40% of the budget this past year. The increase amounts to five dollars per half year, bringing the annual rate to $70.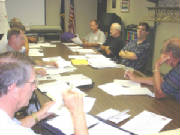 Lions Club Board of Directors
The board also voted to eliminate the At Large designation where members paid 50% of dues, which did not cover the costs of state and national dues.
The board tabled action on approving a budget for the 2005-2006 year until adjustments are made.
In other action, Lion President Phil Golden set a goal for this year of increasing membership to 50. The Club currently has 46 members.
The board also approved a 50/50 drawing for regular meetings, where funds will be split between the winner and the Club.
The next meeting will be the annual Steak Fry at the Log Cabin Courthouse behind the Mansion House on September 12 at 6:30 p.m. The first regular meeting of the new year will be September 27 at the Senior Center with the Palais Royal Cafe catering the meal.
8/8/05
New Year Kicks Off with Steak Fry...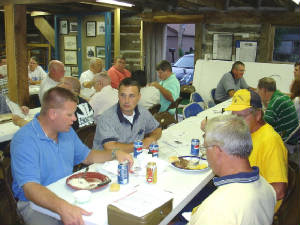 The Log Cabin Courthouse behind the Mansion House was filled with Lions and Leos Monday evening (September 12). They enjoyed the annual steak fry with an evening of fellowship as they kicked off a new year of meetings. The first regular meeting will be held September 26 at the Senior Center. The program has not been announced.
9/12/05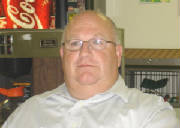 Safety Officer Bob (SOB)
Past Lions President Bob Hobson has been appointed the Club's first Safety Officer. Lion Hobson will be responsible for seeing that all safety measures are taken at the Club's events. Hobson is a member of the Richmond Police Department, where he is assistant chief in charge of operations.
At the Club's September 26 meeting, it was decided the Club will participate in the Centerville Homecoming Parade on Friday, September 30. Participation in the Christmas in Centerville celebration and parade were also approved.
Community Halloween Chair Jeff Nickel reminded members of the party on October 31 at the Centerville Elementary gymnasium.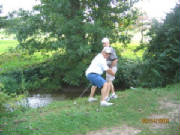 Lions Benedict & Spencer trying to retrieve a lost ball in the creek (Jud Costlow photo)
He also reported on the 2nd Annual Golf Scramble that was held on Saturday, September 24. He said 14 four-member teams participated.
There were 13 hole sponsors at the Winding Ridge Golf Course..
9/26/05
Seybold Talks About Alternative Energy Sources...
Phil Seybold, director of facilities at the Cope Environmental Center, spoke of "intriguing" alternative energy sources before members of the Centerville Lions Club Monday evening, September 26. One of them is the 104-foot wind tower at the Cope Center that produces 1,000 watts of electricity. Another is the Lucky Ward house, which the center is adapting this technology to see how it works.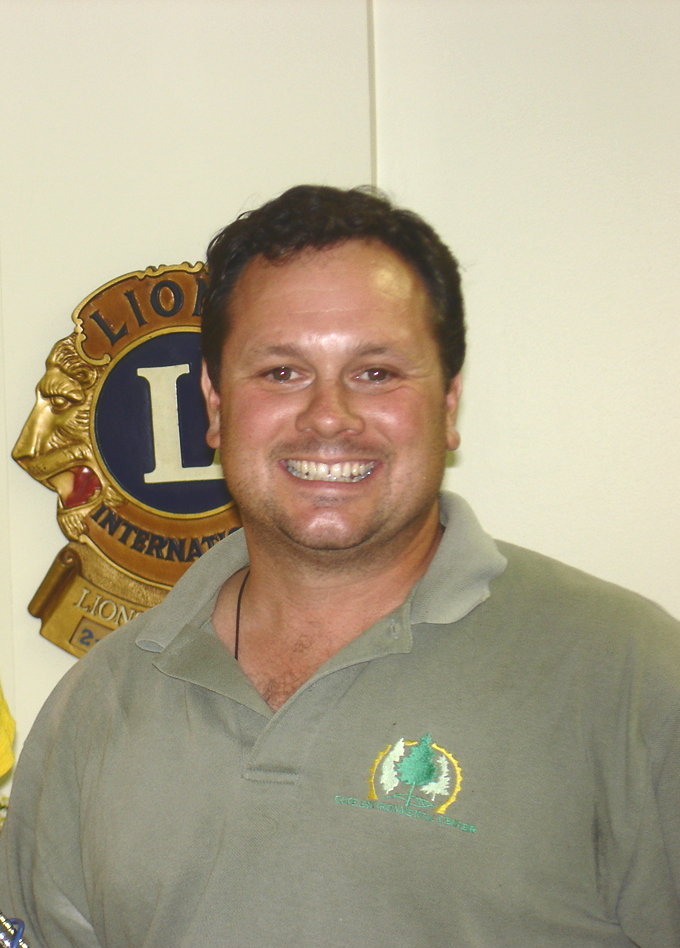 Cope's Phil Seybold
Seybold stressed conservation no matter what type of energy is used. He showed the newest light bulbs, which consume about one fourth the electricity of a regular bulb. Another example he showed was the (ICF) insulation concrete form, that saves energy in buildings.
Other forms of power are wind, solar and biodiesel fuel. He said the small community of Reynolds, Indiana, near Purdue University, is being converted to a "self-sufficient community" as an example of how alternative fuels can be utilized.
Seybold said he would be happy to talk to anyone about alternative methods at the Cope Center.
9/26/05
Assistant Superintendant of Centerville-Abington Community Schools Mark Campbell was approved for membership by the Board of Directors Monday evening, October 24. He and Mike Poynter will probably be officially inducted into the Club at the December Christmas Ladies Night December 12.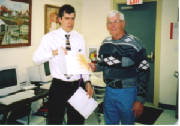 Lion Jim Howell (right) receives long term membership certificate from Lions International
Lion Jim Howell had the winning bid of $38 for the load of firewood donated by former member Bill Berry. The money will benefit the Lions many projects.
The Club has decided to give a Bear Basket to a needy Centerville area family this Christmas. Lion Courtney Amos is heading up that effort.
Lions Bob Blue and Jud Costlow have audited the books for the club and turned in their report last night.
10/24/05
Kids enjoy Halloween Party...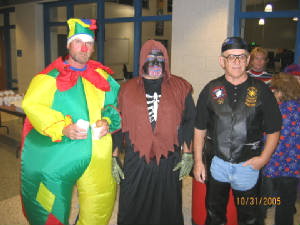 Some of the older kids attending
Kids of all ages enjoyed themselves at the annual Halloween Party held by the Centerville Lions Club, Monday evening, October 31.
Many came masked following their regular trick or treat rounds in Centerville. They played various games supervised by Lion volunteers and participated in the Cake Walk, where they went home with cookies or cakes. Prizes were given to winners of costume winners of several age categories.
The event is a project of the Lions Club so kids will have something to do after trick or treating.
11/1/05
Centerville Lions Club Benefits from Don McKinney Estate...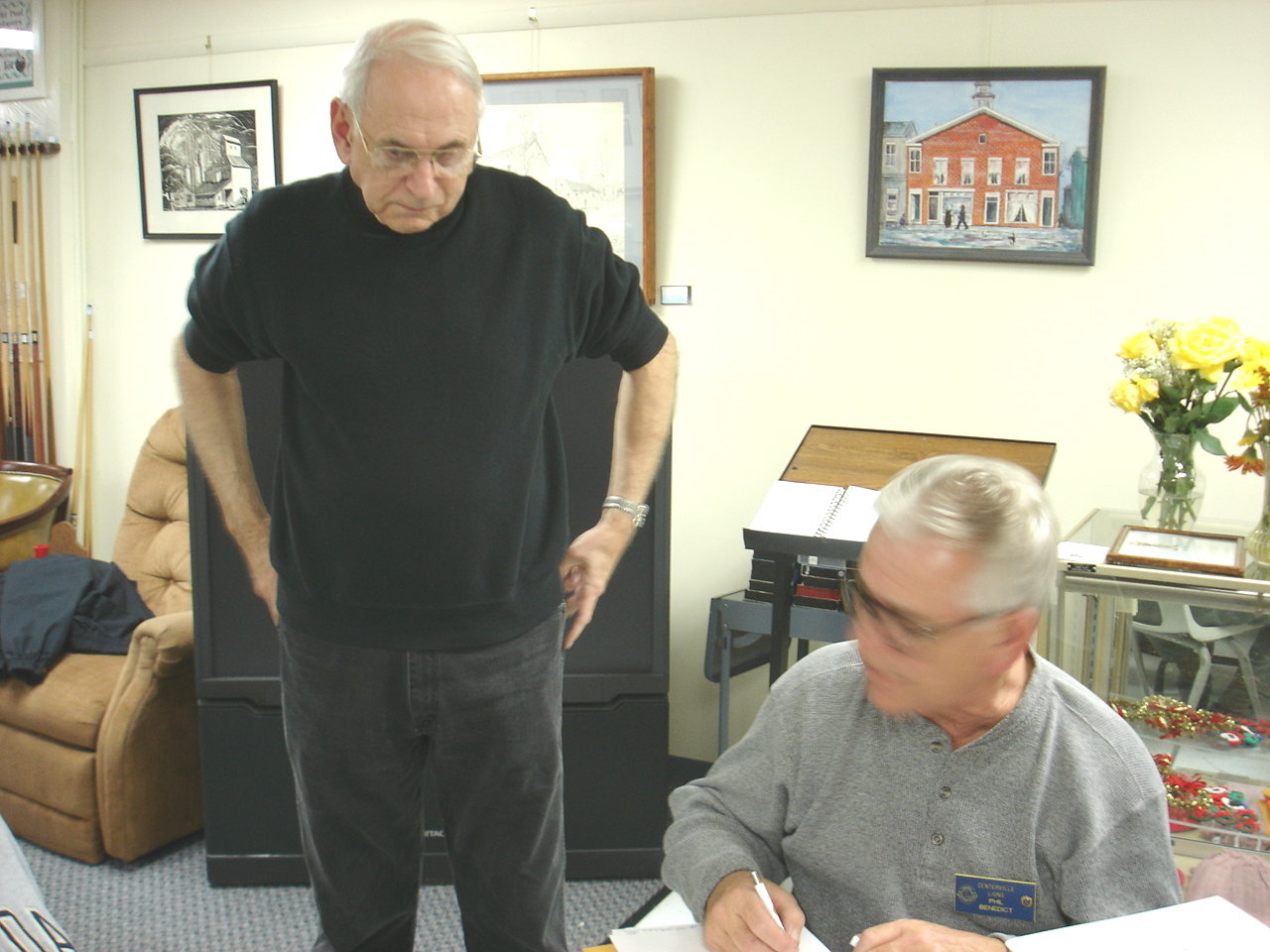 Lion Bob Blue (left) presenting McKinney's check to Treasurer Phil Benedict
Centerville educator Donald McKinney, who died last year at the age of 95, has left a $10,000 gift to the Centerville Lions Club. Lion Bob Blue, Successor Trustee to the Donald McKinney Irrevocable Living Trust, presented a check to the club Monday evening, November 28. Although there are no restrictions on the gift, it was McKinney's wish that interest from the principle be used for scholarships at Centerville High School and for the Lions Community Awards Program held each February.
Don McKinney at the Lion's 2004 Community Awards program
A lifetime resident of the Centerville community, McKinney taught in the school systems at Williamsburg, Fountain City and Centerville. He later served as principal at Boston.
While at Centerville, he escorted 29 senior classes to Washington, D.C. and New York City. He also refereed basketball games and later announced the games. He taught night adult classes at Richmond for 30 years and was on the staff at Earlham College-Indiana Extension (now IU East) for six years.
McKinney was active in the community and served on several boards and was a member of the Centerville Jaycees and Lions Club. His major passion was writing besides volunteering. His favorite saying was, "Get as much education as you can because it is something no one can take away from you."
11/28/05
Lion Bob Blue presents Christmas Program...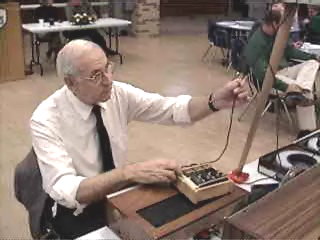 Bob Blue preparing for his 3-screen slide show
Lion Bob Blue presented a three screen slide show with music and commentary called "Aruba Caribbean Holiday." Blue has documented his travels in 26 shows which he has shown nearly a thousand times.
Lion President Phil Golden presented Lions Secretary Jim Resh with an award for sponsoring a new member. Then, Resh, presented a Lions International Key Award to Jeff Nickell for sponsoring two new members during this past year.
Resh introduced special guests. They included widows of members: Mary Kehoe, widow of Donald Kehoe and Jane Lumpkin, widow of Louis Lumpkin. Also, two guests from the New Lisbon Lions Club: Mary Miller and John Paul, a charter member of that club.
12/12/05
Lions Learn About Biotechnology...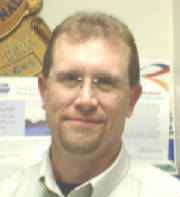 Kirby Bacon of Monsanto
Kirby Bacon of Monsanto, who works with agricultural biotechnology, told Lions Monday evening, January 9, that his mission is to educate the general public. He said everyone who eats is affected by biotechnology. He said there needs to be new ways to produce products and a lot of progress has been made in the last ten years.
1/9/06
Community Service Awards...
2006 Community Service Awards sponsored by the Centerville Lions Club were presented Monday evening, February 13 at the Centerville High School Cafetorium. They were given to: Jackie and Alan Carberry, Harold Klein, Lion Jeff Nickell and Jenelle Burris.
The Carberry's, owners of Warm Glow Candle Company, were recognized for their strong support of community organziations such as Toys for Tots and the Cope Environmental Center.
Klein was honored for 27 years of coaching golf at Centerville High School. Although he retired from coaching in 2005, he still teaches Spanish and acts as the Bulldogs bus driver and scorekeeper during basketball season.
Nickell, was honored for his leadership positions with the Centerville Lions Club, Christmas in Centerville and Centerville Athletic Boosters Club.
And Burris, a cancer survivor, was honored for her leadership with activities such as Centerville Music Boosters and the local library board.
Lions Secretary Jim Resh recognized all 26 past winners in attendance and had them stand and receive applause. Punch was served by Janice Roberts and Marge Howell and flowers on the tables were given away at each table. Over 90 persons attended the event. Dinner was served by Palais Royal catering, Ron and Becky Cole.
2/14/06
Lions hear about Civic Theatre...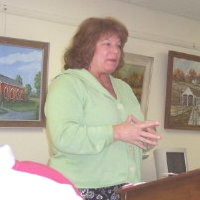 RCT's Becky Cooper
Our guest speaker February 27 was Becky Cooper of Richmond Civic Theater. She spoke of the programs such as Stage One, The Ripple Effect, which this year featured holocaust events, the Penny Project, which goes towards a literacy fund, Stage one for children productions. She also talked of their productions such as James and the Giant Peach and My Fair Lady. RCT also has Studio Ten for adult actors.
Two guests were present at the meeting. One was cabinet member Liberty Lion Melinda Clevenger and her husband lion Mark Clevenger, in charge of public relations.
2/27/06


Centerville Band Wins Third at State Fair Band Contest...
The Centerville High School Marching Band under the direction of Lion Charles Roesch won third place in the Sweet Sixteen Band Competiton at the Indiana State Fair Wednesday night. They were fourth last year. They won first place for small band during afternoon competition. It's the sixth time in school history the band has won the award.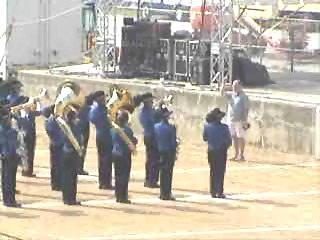 Band director Charles Roesch giving last minute directions
They also won awards in the small band categories of best music, visual, general effect and percussion.
Richmond placed 6th, Hagerstown 10th and Northeastern 16. Anderson Highland won the competition followed by Muncie Southside.
8/10/05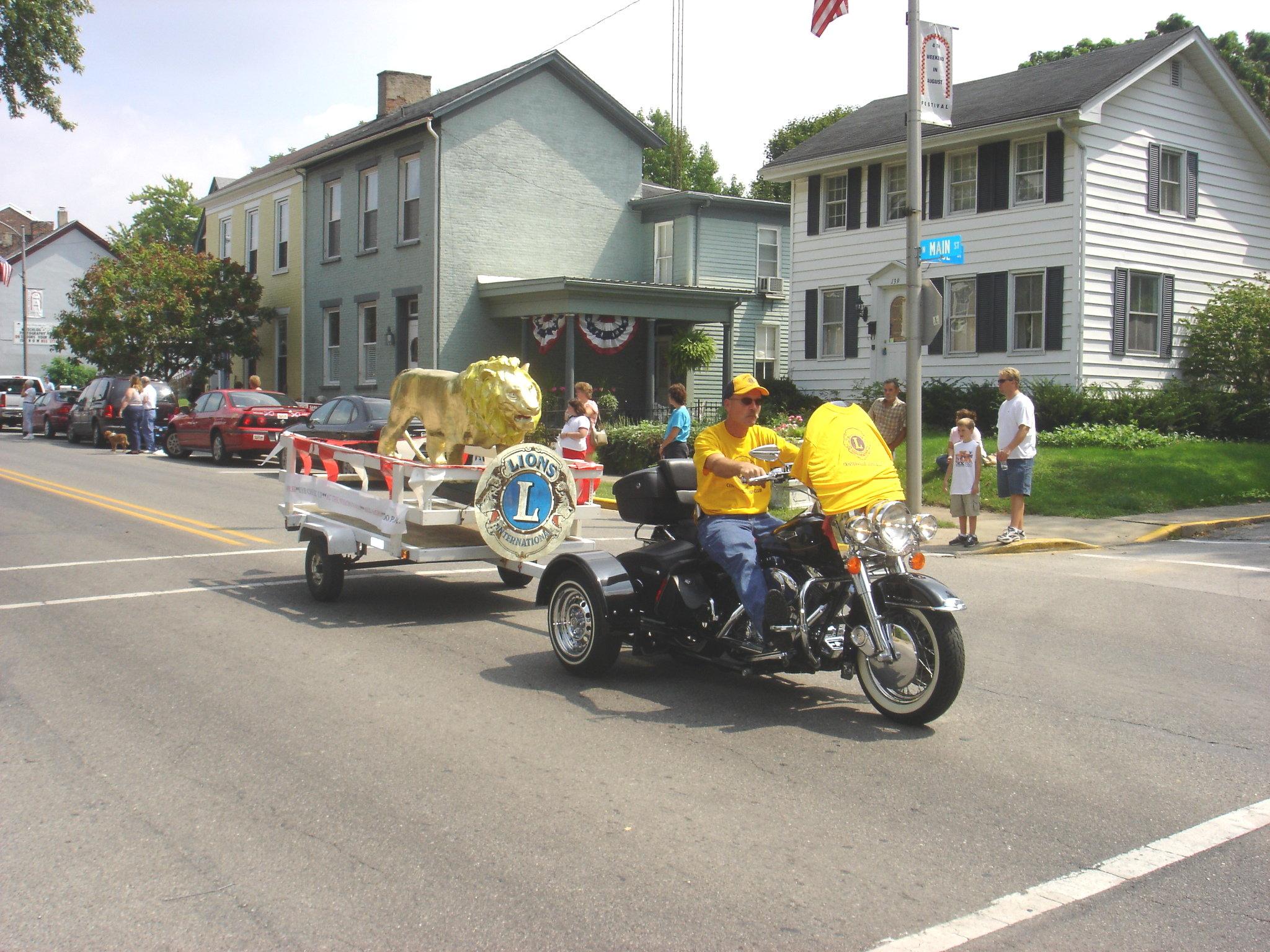 Lion Tom Berhalter pulling the Lion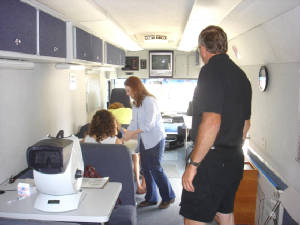 Lions Courtney Amos & Tim McConaha help in the Vision Van
In the Vision Van, Lions helped administer health tests including eye exams. If found positive, those taking part were referred to the proper medical doctor.
Centerville Lions ran a booth and operated the District Vision Van during the 17th annual Archway Days Festival in Centerville as well as participing the Saturday afternoon parade. In the booth, Lions sold Big Picture Books, cotton candy and brooms as well as dispensing free water.
In action taken following the regular Lions Club meeting October 10, the board approved a $100 donation to All Nighter Instructional Basketball Program at Centerville High School. The All Nighter will be held October 26th and 27th for second through seventh graders. The money will help offset costs for the program, which includes a pizza dinner on October 26th.
The board also approved the membership of Mike Poynter, who was a former member of the club. Poynter is rejoining the club after his retirement from Centerville-Abington Schools.
10/10/05
No Substitute for Blood...
Nine out of ten persons will need blood at sometime in their lives, according to Belinda Frech of the Community Blood Center. Frech, who lives in Centerville, addressed members of the Centerville Lions Club Monday evening, October 10. She represents Wayne, Union and Randolph counties for the Dayton, Ohio based blood center.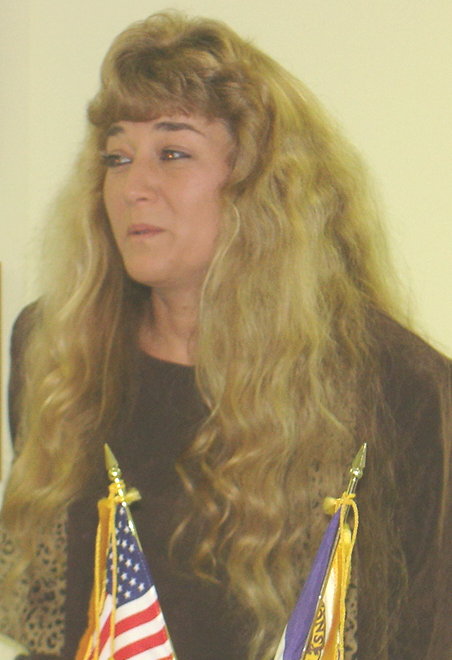 Blood Center Representative Belinda Frech
Frech said only 5% of the population actually donates blood. She said the average age of donors in this area is between 55 and 65 years old... the majority being women.
Frech said November 9 has been set aside for a Blood Drive in Centerville. It will be held at the Christian Church from 11 a.m. to 7 p.m. with Kicks96 broadcasting from there. Their goal is 96 pints.
Frech also announced the Blood Center will be moving from its Old National Road East location to an undisclosed site on Chester Boulevard in Richmond sometime in 2006.
10/10/05
It may have seemed Lions were back in a college classroom as they listened to Dr. Brian Alenskis tell about Purdue University programs Monday evening, October 24. Alensksis was guest speaker at the regular dinner meeting held at the Senior Center.
Brian Alenskis (left) being presented a paperweight Lion by Club president Phil Golden
Dr. Alenskis spoke of the different programs which Purdue offers at IU East in Richmond and the degrees which are available thru the school locally. Industrial Technology degrees were stressed. They have 140 students. They also work with the local high schools in getting students interested in the technology degrees.
10/24/05
District Governor Speaks...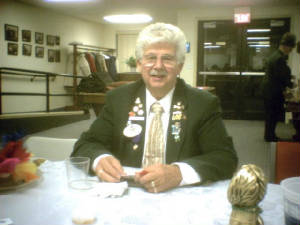 District Governor Earl Whipple
District 25F Governor Earl "The Whip" Whipple spoke before the November 14 meeting of the Centerville Lions Club. Whipple spoke about Leader Dogs, Cancer Control, the Eye Bank, Camp Woodsmoke and the Vision Van. 28 members and guests were present.
11/15/06
Coaches Talk Basketball...
Centerville High School girls and boys basketball coaches looked at the season ahead before the November 28 Centerville Lions Club meeting.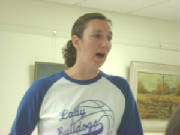 CHS Lady Bulldogs coach Betsey Moore
Lady Bulldogs coach Betsey Moore said in the first three games, which they have won, they've averaged 64 points while allowing their opponents 46.3 points. Moore said she sees every game as a stepping stone, expects the worse, but strives to be the best.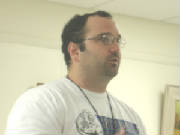 CHS basketball coach Ryan Chidester
Boys coach Ryan Chidester said he's excited about his team. He says the team is working hard in practice and is pleased with their practice mentality. With the season just underway, Chidester says there's going to be ups and downs, but has high expectations this year.
11/28/05
Two new members inducted...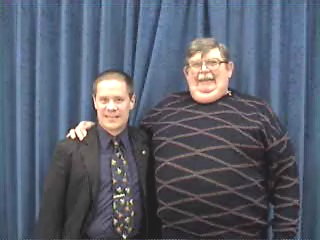 Mark Campbell (l) and Mike Poynter
The Centerville Lions Club gained two members during induction ceremonies at the annual Christmas Ladies Night Program Monday evening, December 12, at the Centerville High School Cafetorium. Mark Campbell is Assistant Superintendent of Schools for the Centerville-Abington Community Schools. Mike Poynter retired recently from the school system and was a former member of the Lions Club.
12/12/05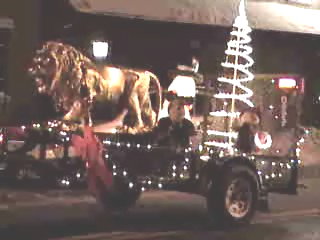 The Centerville Lion on the Club float
The Centerville Lions Club participated in the Christmas in Centerville Parade Saturday evening, December 10. The club also sold Christmas wreaths and Big Coloring Books along the parade route in front of the Library. Although it was cold outside, the Lions were as enthusiastic as the crowd.
12/10/05
Former Lion Dies...
Former Centerville Lion Richard Hobbs has died. The 83 year old retired real estate agency owner died died Saturday, December 31, at his home following a lengthy illness. He also was a tool and die maker.
Hobbs served as president of the club in 1979-80.
Funeral services will be Friday morning at 10 o'clock at the Stegall--Berheide-Orr Funeral Home in Richmond, where visitation will be from 5 to 8 p.m. Thursday. Burial will be in Glen Haven Memorial Gardens with military rites.
Hobbs wife, Joan, died in 2004.
1/4/06
Grandson of Lion member dies...
Funeral services for the two-month old grandson of Lion Tom Berhalter and wife Susan were held Thursday afternoon at the Riggle-Walterman Mortuary in Richmond. Burial was in Lutherania Cemetery. Hunter Goodwin died unexpectedly at home Monday morning.
Hunter is the son of Brian and Sarah (Berhalter) Goodwin of Centerville.
1/19/06
Board Meeting...
A $100 donation for sponsorship of the Centerville-Abington 3rd & 4th grade basketball tourney was approved by the Board of Directors of the Centerville Lions Club Monday evening, January 23. Six to eight teams will be participating in the February 4th event. Winners will advance to a tourney in Indianapolis.
The board also set ticket prices for the annual fish fry June 2 and 3. Tickets at the door will be $6.50, but will be 50-cents lower if purchased before the event.
1/23/06
Lions Hear About Heart Attacks and Strokes...
Sherry Smith, a registered nurse from the Reid Hospital emergency department spoke to Centerville Lions Monday evening, January 23, about heart attacks and strokes.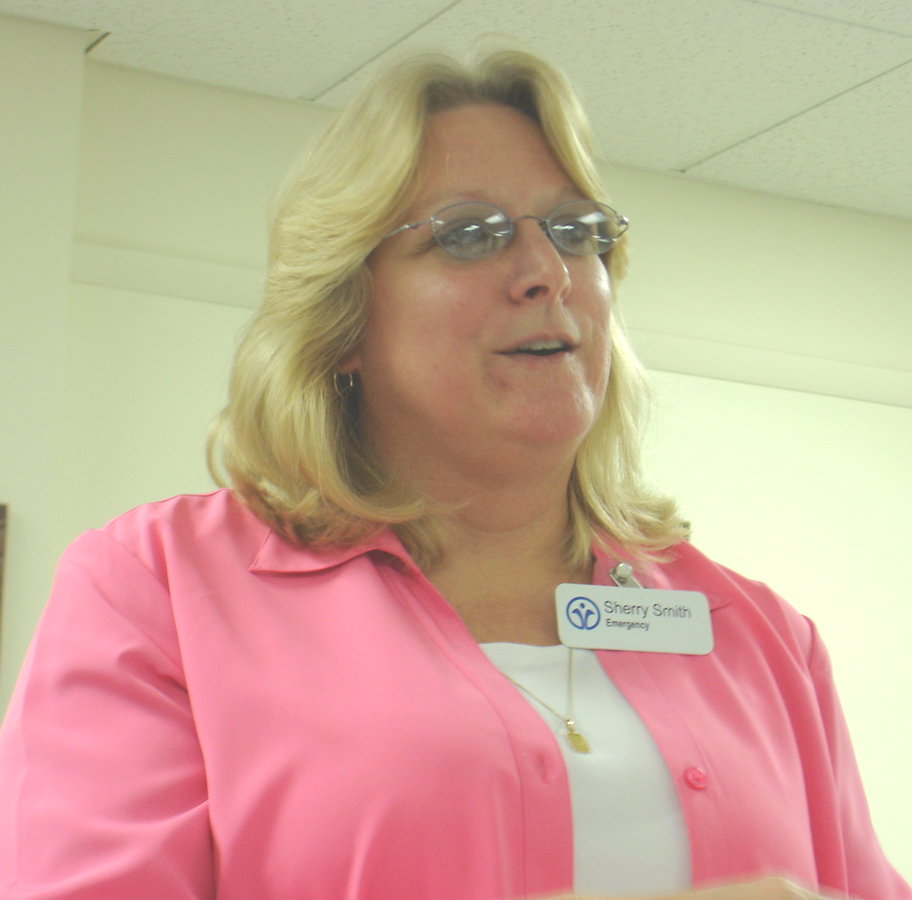 Reid Hospital RN Sherry Smith
Smith, who has been an R.N. for 20 years, said heart attacks are the leading cause of death among women and men in the United States. She said strokes are the leading cause of disabilities.
She outlined the risk factors in heart disease and the importance of getting help immediately. Smith said the lack of awareness in strokes can spell disaster. She said it's important to call 9-1-1 and not take it on one's self to get the victim to the hospital.
1/23/06